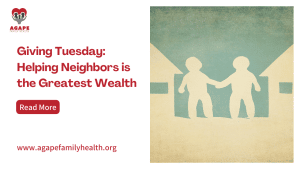 Giving Tuesday is a global day of giving that takes place on the Tuesday after Thanksgiving. It was created to encourage people to give back to their communities after a day of consumerism. People can donate money or time to their favorite charities or causes on Giving Tuesday. They can also spread awareness about the organizations they support by sharing their stories on social media using the hashtag #GivingTuesday. 
Giving Tuesday is an opportunity for people to unite and make a difference in the world. We can create a better world for all by coming together and supporting each other.
Why Helping Neighbors is the Greatest Wealth
In our fast-paced, competitive world, it's easy to get caught up in the accumulation of wealth. But what if we took a step back and looked at the things that really matter? Helping our neighbors is one of the most important things we can do. It costs us nothing but our time, and the rewards are immeasurable.
When we help our neighbors, we create a stronger community. We build relationships and trust. We show each other that we care. And in return, our neighbors are more likely to help us when we need it.
Helping our neighbors is also good for our mental and physical health. Studies have shown that people who help others are happier and live longer than those who don't. They also have lower rates of depression and anxiety.
So next time you're feeling stressed out about work or money, take a moment to think about what really matters. Reach out to your neighbor and offer a helping hand. It's the greatest wealth you can give – and receive.
How You Can Help on Giving Tuesday
1. Pass on your skills
One way you can participate in Giving Tuesday is by passing on your skills to others. This could involve teaching a class, leading a workshop, or simply sharing your knowledge with someone who is interested. 
By sharing your skills, you can help others to reach their potential and make a positive impact in their lives. Not only will you be making a difference on Giving Tuesday, but you'll also be helping to create a more generous and giving world all year round. 
2. It's simple, be kind
There are many ways to get involved, but one simple way to participate is by being kind to your neighbor. Whether you offer to shovel their walkway, bring them a hot meal, or simply lend a listening ear, your act of kindness will make a difference in their day. 
And who knows? Maybe your act of kindness will inspire them to pay it forward on Giving Tuesday or throughout the holiday season. So this year, let's all remember the spirit of giving by being kind to our neighbors all year long. 
3. Give within your means 
Agape Family Health is committed to helping those in need, and we hope you will join us in this effort. Just text the word GIVE to (904) 364 9254 to participate. We know that times are tough for everyone, but even a small donation can make a big difference. So please join us on Giving Tuesday, and help us make a difference in the lives of those who need it most.
Give the Gift of Healthcare
On Giving Tuesday, we hope you'll consider giving the gift of healthcare. Every day, our team at Agape Family Health strives to provide the best possible care for our patients. However, we can only do this with the support of our community. To make a donation, simply text GIVE or DONATE to (904) 364 9254. Thank you for your support!