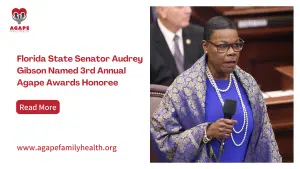 Florida State Senator Audrey Gibson is one of the 3rd Annual Agape Awards Honorees, which will be held on Thursday, December 1st, at Jacksonville Downtown Marriott. The Agape Family Health chose Senator Gibson for her dedication to serving the people of Florida and her commitment to making a difference in the lives of others.
Meet Senator Audrey Gibson
Audrey Gibson is a Democratic member of the Florida Senate, representing the 9th District since 2016. The district includes parts of Duval and St. Johns counties. Prior to her election to the Senate, she served in the Florida House of Representatives from 2012 to 2016. 
She was born and raised in Jacksonville, Florida and is a graduate of Raines High School and Florida State University. In the Senate, she serves as the ranking member of the Transportation Committee and is also a member of the Appropriations, Education, Ethics and Elections, Health Policy, and Rules committees. 
Senator Gibson is a strong advocate for public education and has fought to increase funding for schools and reduce testing requirements. She is also a leading voice on healthcare issues in the Legislature and has worked to expand access to affordable healthcare for all Floridians.
The 3rd Annual Agape Awards
The 3rd Annual Agape Awards were created to recognize and celebrate the champions in our community who have dedicated their lives to making an impact by improving outcomes for healthcare access and equity. These honorary awards are a way for us to not only say thank you to these individuals but also to inspire others to follow in their footsteps. We believe that by honoring those who have made a difference, we can make a difference in the world.
On Thursday, December 1st, the Jacksonville Downtown Marriott will host the 3rd Annual Agape Awards. The event will honor community health heroes who have made a significant impact in the field of healthcare. Among those being honored are:
Tracie Davis, Florida House of Representatives

Mr. Ronnie King, Founder, MyVillage Project

Mr. Michael Lawton, CEO, Florida Health Plan, United HealthCare 
The annual fundraising event is a critical component of our organization's efforts to provide quality, affordable health care for everyone in our community. The event helps to ensure that no one is ever turned away for inability to pay and that everyone deserves access to quality health care. 
Healthcare is an important issue for everyone. All proceeds from the event will go towards our healthcare initiatives, so your participation will make a real difference. General admission to the event is $65, and we also have VIP tables available for $650. 
So don't miss out – buy your tickets today!