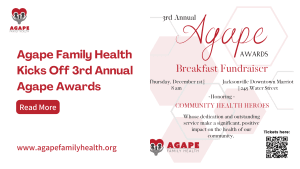 Agape Family Health will be kicking off its 3rd Annual Agape Awards this Thursday, December 1st, at the Jacksonville Downtown Marriott. The event will honor community health heroes who have made a significant impact in the field of healthcare. 
The 3rd Annual Agape Awards will feature a breakfast fundraiser to raise funds for accessible and affordable healthcare, especially for uninsured patients. The event will provide an opportunity for the community to come together and support those who need it the most. 
Serving Jacksonville Residents Since 2004 
Agape Family Health is a non-profit healthcare center in Jacksonville, Florida, providing various healthcare services from birth through adulthood since 2004. We are committed to providing quality, affordable healthcare to all patients, regardless of their insurance status or ability to pay. We offer a wide range of services, including primary care, mental health services, and dental care. We also have an on-site pharmacy and laboratory, as well as a women's health center. 
Our staff is passionate about providing excellent care to our patients and families, and we strive to create a warm and welcoming environment. We are proud to be part of the Jacksonville community, and we are grateful for the support of our donors, volunteers, and staff. 
3rd Annual Agape Awards 
Agape Family Health is pleased to announce its third annual awards ceremony honoring community health heroes. This year's event will be held on Thursday, December 1st, at the Jacksonville Downtown Marriott. The event will honor individuals and organizations who have made outstanding contributions to improving the health of our community. The event will also feature honorees such as Florida House of Representatives member Tracie Davis, MyVillage Project founder Ronnie King, and more. 
General admission to the event is $65, while a VIP table is available for $650. Tickets can be purchased online or at the door.
Healthcare is a basic human right, and yet millions of Americans struggle to pay for the care they need. Our goal is to raise funds through 125 attendees or more. The funds raised will ensure that families and children will have access to affordable healthcare, even uninsured. 
At Agape Family Health, we believe that everyone deserves quality, affordable healthcare. We strive to provide compassionate care for all of our patients, regardless of their age, race, gender, national origin, or socioeconomic status. We understand that many people are facing financial challenges, and we never want anyone to be turned away for inability to pay. 
Our goal is to make sure that everyone has access to the care they need and deserve. If you want to make this possible, consider donating to our fundraising efforts. 
Your Help Could Make A Difference
As a healthcare provider, we are committed to making sure that our patients have access to the best possible care. However, we know that there are many families who struggle to afford even basic medical treatment. We would be grateful if you could participate to our cause. Your contribution could make a real difference in the lives of families and children who need our help. 
From stories of hope and resilience to tales of heroic acts, this event will remind us all of the strength of the human spirit. Get your tickets now and join us in celebrating the courage of our health heroes.