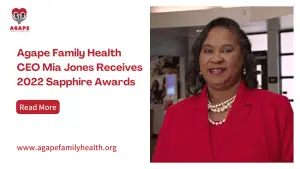 Agape Family Health is pleased to announce that CEO Mia Jones has been selected as a recipient of the Florida Blue Foundation 2022 Sapphire Awards on May 4, 2022, in Orlando, Florida. 
The Sapphire Awards are presented annually to individuals and organizations who have made outstanding contributions to the health and well-being of their communities. Mia Jones was recognized for her exemplary leadership in improving access to quality healthcare for underserved populations in Florida. 
Mia Jones is a proven community champion passionate about improving health equity, access and opportunities for disadvantaged populations. Her life work has been focused on bringing more healthcare services to people through community health centers and public schools. 
In her role as a healthcare advocate, Jones successfully secured additional funding for community health centers and expanded access to care for low-income and underserved communities. She has also worked diligently to improve the quality of care at these facilities and ensure that they are providing culturally competent care.
The 2022 Sapphire Awards
The Sapphire Awards is an annual event hosted by the Florida Blue Foundation to recognize individuals and organizations working to improve their communities' health and well-being. The Awards are named after Florida Blue's corporate mascot, Sapphire, and they celebrate how people can make a difference in the lives of others. Past winners have included healthcare professionals, educators, volunteers, and business leaders. 
On May 4, the Florida Blue Foundation announced the honorees for its annual Sapphire Awards at a ceremony in Orlando. The Sapphire Awards are given to individuals and organizations who have made significant contributions to the health and well-being of Floridians. 
"As a mission-driven company focused on helping people and communities achieve better health, we believe everyone deserves to have an equal opportunity to achieve their full health potential," said Susan Towler, executive director of the Florida Blue Foundation.
The Sapphire Award is given to healthcare professionals who have demonstrated exemplary leadership, innovative thinking, and excellence in their field. The awardees are selected through a rigorous external review process. The Sapphire Award is a testament to the awardees' dedication and passion and commitment to making healthcare better for everyone.
Among the individuals who were honored were:
Mia Jones, CEO of Agape Family Health

Sonjia Kenya, EdD, MS, MA, Associate Professor of General Medicine and the Director of Community Health Programs at the University of Miami Miller School of Medicine
Among the organizations that were honored were:
Pathlight HOME in Orlando, Florida

Children's Diagnostic and Treatment Center in Fort Lauderdale, Florida

IDignity in Orlando, Florida
Among the programs which was honored were:
The Mobile Outreach Clinic (MOC) in Gainesville, Florida

ICU Baby's Transportation Assistance Program in Miami, Florida
The Sapphire Awardees will share nearly $500,000 in prize money. This funding will allow these organizations to continue addressing the social determinants of health and ensuring that everyone can live a healthy life. Congratulations to all of the Sapphire Awardees!