Jacksonville, FL — Agape Family Health, a federally qualified health center (FQHC), is pleased to announce the receipt of a $1.5 million allocation from the state of Florida to support its access and expansion of healthcare services.
This allocation of funds, championed by State Senator Tracie Davis, will significantly enhance Agape Family Health's capacity to continue delivering essential mobile dental and school healthcare services to the Jacksonville community. These funds will directly support initiatives aimed at improving access to quality healthcare, strengthening community outreach programs, and bolstering the overall health and well-being of our community. Specifically, $500,000 was allocated to support Agape's mobile dental program and $1 million to support the expansion of school health services.
Senator Davis has been a tireless advocate for our region's healthcare needs. Her unwavering commitment to securing these funds underscores her dedication to the welfare of our community and her deep understanding of the challenges faced by organizations like Agape Family Health.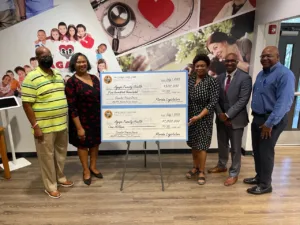 "We are immensely grateful to Senator Davis for her outstanding leadership and unwavering support," said Mia Jones, CEO of Agape Family Health. "These funds will empower us to expand our reach and impact, ensuring that even more individuals and families have access to the vital healthcare services they need."
Agape Family Health has a long-standing history of serving our community with compassion and professionalism, offering a range of healthcare services, including primary care, dental care, behavioral health, and preventive services. This grant will enable the organization to continue fulfilling its mission and making a meaningful difference in the lives of those it serves.
Senator Davis shared her thoughts on this accomplishment, saying, "I am honored to have played a part in securing these critical funds for Agape Family Health. It is a testament to our shared commitment to accessible, quality healthcare for all. I will continue to advocate for the resources needed to ensure the health and well-being of our community."
The impact of this funding will be felt throughout Jacksonville as Agape Family Health expands its reach, strengthens its programs, and continues to provide exceptional healthcare services to those who need it most.
For more information about Agape Family Health and its services, please visit www.agapefamilyhealth.org.
About Agape Family Health
Since 2004, Agape Family Health has been serving Jacksonville as a Non-profit Health Center providing a variety of health services with a focus on holistic care. We accept most medical health insurance including Medicaid and Medicare and also offer a sliding fee discount program for those who are uninsured.
Agape offers comprehensive, integrated care including Primary Medical Care, Behavioral Health, Vision and Pharmaceutical Services.