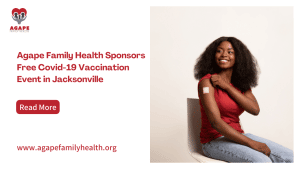 On February 12, Agape Family Health will be sponsoring the Covid-19 Vaccine Event by The Bold City and The Jacksonville Chapters of the Links, Inc. The event will be held in two convenient Jacksonville locations: Lane Wiley Center and Clanzel Brown Community Center. 
We are pleased to be able to offer this opportunity to our community and encourage everyone eligible to get vaccinated. The vaccine is free of charge and appointments are necessary. Among the other sponsors are Southern Area of The Links, Incorporated, Humana, Black Vax, and the "Mask to Protect, Unmask to Inform" initiative. We hope that by providing this service, we can keep our community healthy and safe. 
Free Covid-19 Vaccine Event 
As the Covid-19 pandemic continues to spread, communities across the country are struggling to keep up with the demand for vaccines. In particular, underserved communities are often left behind regarding access to health care. 
To help ensure that no one is left behind, we're sponsoring this free vaccine event in Jacksonville. We'll provide free vaccinations for anyone who needs them and have staff on hand to answer any questions about the vaccine. This event will help ensure everyone has access to the care they need.
Get $25 when you participate 
To help encourage people to get vaccinated against Covid-19, we will give a $25 gift card. The gift cards can be used at a variety of stores and restaurants and are a way to thank people for their efforts in helping to protect themselves and others from the virus. So far, the response to the program has been positive, and it is hoped that it will help increase the number of people vaccinated against Covid-19.
Free vaccine for ages 5 and up
All children ages 5 and up are now eligible to receive the free covid vaccine. This is a huge victory in the fight against the pandemic, as children are often asymptomatic carriers of the virus. With more than half of American children vaccinated, we can finally begin seeing the light at the end of the tunnel. The more people who are vaccinated, the sooner we can put an end to this pandemic.
Book an appointment to secure a slot 
In order to ensure that everyone who wants the covid vaccine can receive it, appointments are preferred for the free event. This will help us track how many people we need to accommodate and ensure that there is enough vaccine for everyone. We understand that some people may not be able to make an appointment, and walk-ins will still be welcome, but we ask that you please try to schedule an appointment if at all possible. 
Join the Free Covid-19 Vaccine Event
To join, simply call 850 439 3358 to schedule an appointment. The Community Health Vaccine Call Center has a team of highly trained professionals who will be on hand to administer the vaccine and answer any questions you may have. We hope that you will take advantage of this opportunity to protect yourself and your loved ones from the covid virus.